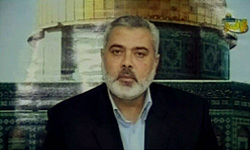 TEHRAN (FNA)- Iran Played an active role in the Doha summit which created a new beam of hope among the people of Gaza, Palestinian Prime Minister Ismail Haniyeh said in a letter to Supreme Leader of the Islamic Revolution Ayatollah Seyed Ali Khamenei.
Iranian President Mahmoud Ahmadinejad put forward 7 demands during the Qatar summit held in the midst of January to discuss ways to help Palestinians.
The demands included immediate termination of Israeli attacks on Gaza Strip, withdrawal of Zionist forces from the coastal area and lifting the siege over the Palestinian territory.
Sending food and medicine to the impoverished area, dispatching the injured Palestinians to hospitals with advanced equipments, bringing Zionist leaders to court to look into their anti-human crimes, revising any relations with Zionist regime and closing its missions and business bureaus particularly in Islamic and Arab countries were also among his proposals.
Meantime, Ahmadinejad called for boycotting Israeli goods and making a change in the current political structures specifically in the UN Security Council since according to the President the council pressed by the US and Britain during the war in Lebanon and Gaza proved that it is only a tool for these powers.
Haniyeh lauded Iranian Supreme Leader for his effective speeches and messages during the 22-day Israeli invasion of Gaza.
Israel's recent military operation in Gaza killed some 1,400 Palestinians. Over 50,000 people were also left homeless in the enclave of 1.5 million. Israel's casualties in the conflict were put at 13, including 10 military personnel, while over 5,500 Palestinians have been wounded.
Noting that Palestinian people still need support to reconstruct Gaza city, Haniyeh reiterated that Palestinians should still be helped to overcome the problems created by the Israeli attack.