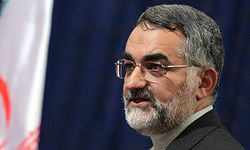 TEHRAN (FNA)- Thanks God no power can deal a blow to the Islamic Republic of Iran, a lawmaker said.
Chairman of Parliament National Security and Foreign Policy Commission, Alaeddin Boroujerdi made the remarks in his address to a ceremony to commemorate the 30th anniversary of victory of the Islamic Revolution in the holy city of Qom.
He referred to Iran as a powerful country which plays a key role in international relations and equations.
On numerous plots hatched by the enemies since the victory of the 1979 Islamic Revolution in Iran, he stressed that all the enemies conspiracies have failed thanks to solidarity and unity of the Iranian nation.
Victory of the Islamic Revolution in Iran caused vast and crucial changes throughout the globe, the Islamic republic news agency quoted Boroujerdi as saying.
Pointing to victory of Palestinian resistance movement to Israeli occupation, Boroujerdi reiterated that those who took lesson from the Islamic Revolution defeated the occupying regime in Palestine and Lebanon.
Lauding the zealous stand taken by the Turkish Prime Minister Recep Tayyip Erdogan against the Zionist regime in the World Economic Forum in Davos, Switzerland, he said such an act by Erdogan was another failure for the Tel Aviv regime.
Criticizing the US approach towards regional states, he said Washington which chants slogans in favor of democracy and peace has committed several crimes by attacking the Islamic states.
He added that since all the US attempts to damage the Islamic Republic were failed in the past three decades, it now talks about negotiations with Tehran.