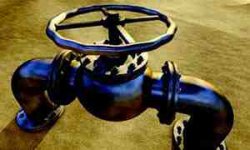 TEHRAN (FNA)- Oil prices rallied to near $42 a barrel over threats of wildcat strikes by refinery workers on both sides of the Atlantic.
US sweet crude for March delivery jumped 22 cents to $41.90 a barrel while London Brent crude increased 42 cents to $46.30.
Dealers say a possible decision by the Organization of Petroleum Exporting Countries (OPEC) to cut output to stem falling prices and insecurity in the volatile oil-rich Niger Delta also helped prices to rally.
On Friday, OPEC Secretary General Abdullah al-Badri told Reuters that the 13-member group is preparing to slash production further at its meeting in March.
Oil prices have plunged some 70% since reaching a record high of over $147 in July, 2008, as economies around the world shrink in response to the global credit crunch.
Fears of refinery strikes in the United States and Britain are expected to push oil prices further up this week.