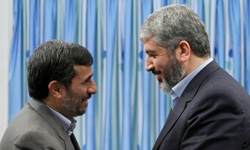 TEHRAN (FNA)- The Israeli leaders who committed war crimes in the 22-day onslaught against the oppressed Palestinian people should be tried, Iranian President Mahmoud Ahmadinejad said.
Calling for the boycott of Israeli goods, Ahmadinejad said in a meeting with Hamas politburo chief Khalid Meshaal here in Tehran Sunday night that Palestinians' faith and resistance helped them overcome problems caused by Israeli war.
He also warned against Israel's new attempts to attack Palestinians and urged them to be vigilant.
Stressing the need for the reconstruction of Gaza and opening of passages to the coastal area, the Iranian President said the Zionists were defeated and humiliated in the war against Palestinian resistance.
Meshaal, for his part, lauded Iranian nation and government's stance regarding the Palestinian resistance and emphasized that resistance is the only way for Palestinians' survival.
Israel's recent military operation in Gaza killed some 1,400 Palestinians. Over 50,000 people were also left homeless in the enclave of 1.5 million. Israel's casualties in the conflict were put at 13, including 10 military personnel, while over 5,500 Palestinians have been wounded.