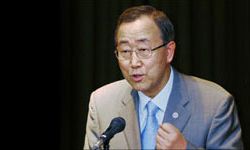 TEHRAN (FNA)- The number of Palestinian people who have been killed in Israeli attacks on Gaza is not acceptable according to the standards, UN Secretary General Ban Ki-moon said on Monday.
"Steps should be taken towards Palestinian solidarity, guaranteed reconstruction of Gaza and preparation of the ground for creating comprehensive peace in the region," the UN Chief added in his inaugural speech at the 12th African Union Summit in Addis Ababa, Ethiopia.
Israel's recent military operation in Gaza killed some 1,400 Palestinians. Over 50,000 people were also left homeless in the enclave of 1.5 million. Israel's casualties in the conflict were put at 13, including 10 military personnel, while over 5,500 Palestinians have been wounded.
The UN chief called for the establishment of durable peace in the region, citing the well-known proverb, "prevention is better than cure".
Regarding the situation in Darfur, the UN Secretary General stressed that the Sudanese government and the insurgent groups should immediately stop violence.
He also extended his congratulations to the African states on their efforts to enhance solidarity in the black continent.