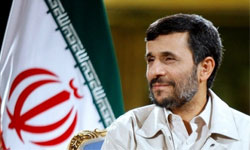 TEHRAN (FNA)- Iranian President Mahmoud Ahmadinejad said Monday that the world arrogance is seeking to dominate the region through Zionism and militarism.
"The arrogance is seeking to dominate the region by means of Zionism and militarism," Ahmadinejad said, alluding to US and its western allies.
Speaking in a meeting with Mauritanian Information Minister Mohammad Valad Amin here in Tehran, the Iranian president also assessed that Muslim world has undermined the political and integrated array set by the world arrogance.
He pointed to the regional and Islamic countries' possibilities for advancement, the Iranian president blamed poverty and backwardness of such countries on the policies of the arrogant and bullying powers.
"On one hand, Bullying and arrogant countries are looting the Muslim and regional countries' resources and on the other hand, they are dictating their colonial policies to them," Ahmadinejad added.
Pointing to expansion of relations and ties with African countries as Iran's foreign policy priority, he emphasized, "The Islamic republic has no restriction for cooperation and transferring its experiences to Mauritania."
At the meeting, the Mauritanian information minister submitted a message from his country's military council chief to the Iranian president.
He further said that Iran's resistance against the world arrogance sets an example for any country and nation, including the African nations.
Valad Amin also called for Mauritania's access to invaluable achievements of Iran.