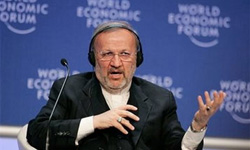 TEHRAN (FNA)- Iranian Foreign Minister Manouchehr Mottaki said in a meeting with Quartet Envoy Tony Blair that the Middle East issue is not easy to solve.
"The reason for this claim is the 60-year-long continuity of the middle east story", Mottaki added in his short conversation with the former British premier in Davos, Switzerland.
Mottaki told FNA in Addis Ababa, Ethiopia on Monday that during the meeting with Bair, he had also pointed to more than 100 plans, resolutions and various initiatives for the Middle East issue, and asked Blair, "Why has the Middle East issue not been solved despite all these plans?"
He then referred to Blair's gray hair and said, "This is the sign of your job difficulties."
"And he told me in response 'as a matter of fact my hair has not grown completely gray yet and if I receive help and the initiative for (the establishment of) two states (in Palestine) becomes a reality and the Middle East crisis is solved, then the rest of my hair will not go gray'."
"At this time I told him that the fact he has accepted the formation of a Palestinian state signals that he has accepted part of the reality."
Elsewhere, the Iranian foreign minister denied media reports about Iran-US negotiations after inauguration of Barack Obama administration.