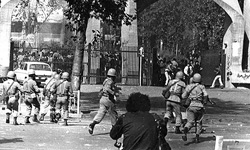 TEHRAN (FNA)- Islamic Revolution of Iran, in view of Pakistani intellectuals, was as a major event in the world history.
"I believe that it (Islamic Revolution) is one of the unique examples in the history," Mazhar Abbas a senior journalist in Islamabad told the Islamic republic news agency on Tuesday, in remarks about the 30th anniversary of the Iranian revolution.
Abbas reiterated that all the Iranian public supported the revolution which is very inspiring for the other oppressed countries of the world.
"I was at that time in the university and it was really amazing for us as no one thought that any body could topple Shah's regime," he added.
The Islamic Revolution in Iran led by Imam Khomeini overthrew the US-backed Mohammad Reza Pahlavi regime in 1979.
Reminding the warm welcome extended to Imam Khomeini by Millions of people, Abbas said, "The beauty of the incident was that Imam Khomeini did not go to Shah's palace but his native town of Qom."
"One thing which is highly commendable is that the new Iranian government after the revolution did not change the cultural values of the country," he added.
Mazhar also termed Iranian civilization one of the richest civilizations of the world.
He said that even today the leadership of Iran is resisting the American pressure.
Former Secretary General of Pakistan Foreign Affairs and former Ambassador Akram Zaki also called the Iranian revolution one of the important events in the history.
"The revolution was so powerful that it changed the entire course of Iranian history," said Akram Zaki.
Central leader of Pakistan's Jamaat-e-Islami Liaqat Baloch described the revolution as the outcome of the struggle of Imam Khomeini against the western powers.
Despite the western propaganda, the Iranian people are celebrating the 30th anniversary of the revolution which is a great achievement, he said.