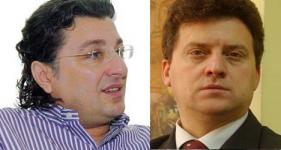 The two presidential candidates viewed as favorites in Macedonia's March 22 election, both employed as professors at the Skopje law faculty, have not received pay checks for two months, sharing the fate of thousands of Macedonians who are still awaiting late salary payments.
According to a report in Macedonian daily Utrinski Vesnik, both Georgi Ivanov, who is backed by the ruling VMRO DPMNE party, and Ljubomir Frckoski, candidate of the opposition Social Democrats, have not received their December and January salaries due to glitches in an internal reform that gridlocked the state budget money intended for Skopje University.
The entire master software of Macedonia's state Revenue Office collapsed at the beginning of this month, the start of a government reform for more transparent payment of wages, leaving nearly all employees in the country without pay for one month.
"I have some saving on my account," Ivanov told the daily. "Those who want to see how much I have saved up can do so, it's no secret."
Frckoski was even more direct than his opponent.
"I breathe on a short straw, I get along like everyone else," Frckoski said. He blamed the government for monopolizing the budget money intended for universities and for taking even the money that the faculty made by itself.