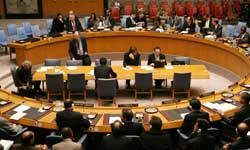 TEHRAN (FNA)- Iran criticized Canada for violating the rights of Muslims and other minorities as well as its recent support for Israeli crimes in Gaza Strip.
Iran made the move in the fourth summit to review human rights situation in the world which was held in UN European office in Geneva.
The country's representative in the meeting referred to the cases of human rights violations in Canada and criticized the country for its opposition to the recent resolution by Human Rights Council condemning the atrocities of the Zionist regime in Gaza.
While Canada claims to advocate human rights in the world, it supports the Israeli crimes against the civilian Gazans, the Islamic republic news agency quoted him as saying.
He called on Canada to fulfill its commitments regarding human rights without any political considerations.
Referring to the problems facing Muslims and Canadians of African origin and the increasing trend of Islamophobia , he added that Muslim community in the country was under mounting pressure following September 11 attacks.
Several other countries participating in the summit objected to the country's discriminating behavior towards the Muslims as well as its policy on the Zionist regime.