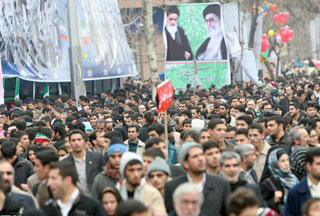 Iranians pour into the streets in millions to celebrate the 30th anniversary of the Islamic Revolution in rallies across the country.
Led by the Founder of the Revolution, Imam Khomeini, Iranians confronted the forces of US-proxy Mohammad-Reza Pahlavi in late 1977 to end dictatorship rule in the country.
By December 1978, millions of Iranians would take to the streets in protest against the policies of the Shah on a regular basis.
Ayatollah Ruhollah Khomeini returned from exile to Iran to be received by cheering crowds after the departure of the Shah in mid-January 1979. Two weeks later, the country saw the Islamic Revolution.
The final collapse of the Shah's regime came on February 10 when the military renounced its loyalty to the Shah and joined the revolutionary forces.
On this day three decades ago, people took to the streets to celebrate the collapse of the Pahlavi Dynasty and the emergence of the new era.
Today, after 30 years, Iranians have turned out in the millions to mark the historic day once again, demonstrating their adherence to the principles and philosophy of the Islamic Republic.
Press TV has been showing live footage of the celebrations.
The Iranian mission to the United Nations has also commemorated the occasion in a reception held at the UN's Headquarters in New York. UN Secretary General Ban Ki-moon attended the ceremony.
On April 1, 1979, Iranians cast their ballots in a national referendum. An astonishing 98.2 percent of the votes endorsed the establishment of an Islamic Republic.
NAT/JG/AA