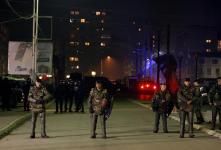 Several thousand Kosovo Serbs protested in the divided town of Mitrovica on Tuesday against the recently formed Kosovo Security Force, asking the international community to disband the fledgling armed force for "presenting a threat to the stability in the region".
Kosovo Serbs leaders called on all Serbs and other non-Albanians not to take part in the activities of those forces, saying it was "an anti-Serb formation".
They also invited Serbian parliament members to hold a session in Mitrovica.on February 17, the day when Kosovo's Albanians will celebrate the one-year anniversary of their declaration of independence. Serbia says it will never accept it as an independent state and still sees it as its southern province.
The head of the Mitrovica district, Radenko Nedeljkovic, appealed to the NATO-led international force KFOR to "act within their mandate and understand that the preservation of peace in Kosovo was their responsibility".
He requested that Kosovo police special units stop coming to Serb-populated north part of the town to avoid provocations and possible incidents.
"We'll not allow one-sided decisions by EULEX and KFOR and we expect from Belgrade a more direct fight for the protection of our lives," Tanjug agency quoted Slavisa Ristic, the mayor of northern Kosovo town of Zubin Potok, as saying.
The rally ended in a protest march to the doors of northern police station in Mitrovica. The majority of shops were closed and there was a strong presence of Kosovo police and KFOR.
Protestors carried banners saying "We're not giving Kosovo", "No to Kosovo security forces", and flags of Serbia, as well as Greece and Spain, both of whom have not recognised Kosovo.