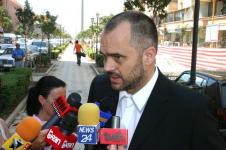 Albania's opposition Socialist party is ahead of the ruling Democrats of Prime Minister Sali Berisha in voter preference four months before a general election, according to a poll conducted by Zogby International for broadcaster Top Channel TV.
In the poll released on Tuesday, 37 percent of respondents said they would vote for the Socialists, 30 percent for the Democrats, PD, and 5 percent for the Socialist Movement for Integration, LSI. Some 19 percent of the people interviewed were undecided.
The poll has a margin of error of plus/minus 3.2 per cent, showing that winner would be to close to call.  
According to the poll, Socialist leader Edi Rama has an approval rating of 44 per cent, while Prime Minister Berisha an approval of 32 per cent.
Albanians remain divided about the direction the country is headed with 44 percent approving it, and 41 percent disapproving.
Half of the respondents have already chosen for which party to vote, 29 percent have a preference, while 20 percent remain undecided.
Albanians ranked employment as their greatest concern, with 69 per cent, followed by the economy with 57 per cent, poverty with 47 per cent, followed by corruption with 32 per cent.
Zogby International will conduct a series of polls every month leading to the general elections on June 28, for Top-Channel.