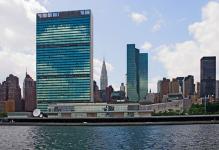 United Nations- sponsored talks between Macedonia and Greece on the 18-year dispute over Macedonia's name resume in New York on Wednesday after a four-month break, against a backdrop of intransigent rhetoric and both sides locked in their long-held positions.
Officials from both countries said they do not expect UN mediator Matthew Nimetz to put anything new on the table, but the meeting will probably focus on making the old positions of the two countries more precise.
Skopje is expected to continue insisting on the so called double name formula including one name for international use and another for bilateral relations with Athens. Greece on the other hand wants Macedonia to change its name and use the new name everywhere, arguing that the use of 'Macedonia' implies territorial claims over its own northern province that is called the same.
Relations between the two neighbours reached a low recently since last April, when Athens blocked Skopje's NATO accession pending a solution to the row, then threatened to do the same in the EU, while in November Macedonia took Greece to the International Court of Justice in Hague over the NATO blockade. Observers feared this could practically freeze if not completely end the UN talks since the focus will be shifted on the suit instead.
The latest statements by both countries FM's do not promise much either.
On Tuesday Greek FM Dora Bakoyiannis told Albanian newspaper "Panorama" that there is no positive atmosphere between the two countries due to a "series of provocations from Skopje", while Macedonia's FM Nikola Gruevski last week told the Munich Security Forum that Greece undermines regional peace and security with its behavior.
The last formal meeting between Nimetz and the countries' negotiators took place on October 8 in New York, when he tabled a "set of ideas" which both Skopje and Athens said are unacceptable. The proposal was never made public officially, but media reports said it was Republic of North Macedonia or a variation thereof.