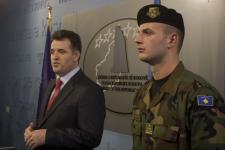 Six Serbs, six Croats, 19 Bosniaks and 26 Ashkali are among the 101 non-Albanian soldiers to have been accepted into Kosovo's new Security Force, deputy Minister Behxhet Brajshori said on Wednesday
Last month Kosovo inaugurated a NATO-sponsored security force that is an army in all but name, taking a firm step to full statehood after its secession from Serbia last February. Belgrade slammed its formation as illegal, calling on Serbs not to join the new force.
Several thousands of Serbs from northern Kosovo protested on Tuesday against the recently formed body, requesting from the international community to disband it as it presents "a threat to stability in the region".
Kosovo parliament member Bojan Stojanovic said the Security Force would not change anything in the field and appealed to Serbs to reconsider their stance regarding joining the KSF, that will have 2,500 active members and 800 reservists.
"I don't expect anyone to be endangered. What we need the least now when tensions are relaxing, is that someone tries to destabilise the situation south of the Ibar river," he said. "One should not scare Serbs in villages by saying the Security Forces represents a direct threat to them."