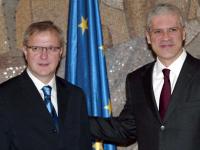 The European Union will decide whether to accept Serbia's application for candidate status based on its progress and efficiency in implementing the pre-membership agreement and trade deal, EU enlargement commissioner Olli Rehn said on Thursday.
Rehn was in Belgrade to discuss the Stabilisation and Association Agreement, cooperation with the United Nations war crimes tribunal and relaxation of the visa regime for Serbs. Serbia had previously invited an EU delegation to visit Belgrade and check directly the level of the country's cooperation with the Hague tribunal, a key condition for unfreezing the SAA and moving ahead towards membership.
"I understand Serbia's idea, but still it is up to the EU and the Ministers' Council to speak about the progress of cooperation, and the tribunal's chief prosecutor Serge Brammertz is the one who should assess the quality of cooperation," Rehn said, adding "Serbia has the potential to make fast progress in European integration in 2009."
Rehn also praised Serbia's constructive stance in the process of the deployment of the EU law and justice mission EULEX to Kosovo, saying the primary goal of the mission was to improve economic and social situation in Kosovo and fight organised crime.
Serbian President Boris Tadic said "it is of utmost importance for Serbia that the integration process lasts as short as possible."
"We're interested in the final goal and that is why we'll take into consideration Commissioner Rehn's realistic analysis to make a decision on the date of our candidacy application."