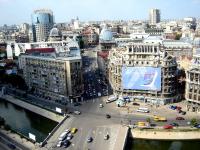 Romania's unemployment rate rose by half a percentage point in January to 4.9 percent compared to the previous month, the National Employment Agency, ANOFM, said on Thursday.
In January 2008, the unemployment rate was 4.2 percent.
The number of unemployed people in January stood at 444,907, while in January 2008 it was 383,989.
The jobless rate in Romania is still one of the lowest in the European Union, with one reason for the fall in recent years the migration to Western Europe of more than 2 million people.
However, increased foreign investment and a stronger economy have caused labour costs in Romania to rise. Economic analysts expect that thousands of people will face redundancies in the following months as Romania starts to feel the effects of the global financial crisis.