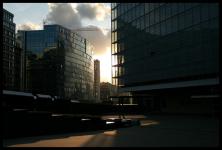 The European Union has asked the Albanian government to reconsider the legal and political ramifications of its recently adopted lustration law, a much-criticised and controverisal item of legislation both domestically and abroad.
"The new Law on Lustration gives rise to concern with regards to certain aspects on both procedure and substance", the Council of the European Union warned in a press release. "The EU recommends that the law should comply with constitutional requirements and international standards."
It said its objections were also pointed out in a recent demarche sent to government of Albania.
Despite warnings from Brussels, Albanian Parliament adopted the "Lustration Law" at the end of last year. The law bans from public service all people linked to the former secret police, "Sigurimi", from November 1944 to December 1990. The opposition Socialists and other smaller parties boycotted the vote when the law was adopted.
The Council also stressed the importance of ensuring an inclusive political dialogue and reiterated that the Council of Europe, the OSCE and EU experts stand ready to provide advice and assistance to the Albanian authorities in finding ways to achieve the legitimate objective of dealing with the past in full compliance with relevant standards.