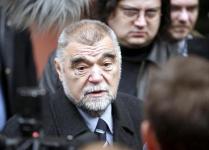 Croatian President Stjepan Mesic will soon formalise his request for a special government session dedicated to the global economic crisis that is affecting Croatia, he said in an interview for Nova TV on Tuesday evening
Asked to comment on Prime Minister Ivo Sanader's statement that there was no need to convene such a session, Mesic said that he could be "ignored by anyone in this country, but the problems cannot be ignored."
"As the head of state, I cannot call a government session, but I can formalise my request that such a session be convened, which I will most probably do, but it is up to the government to make a decision and take responsibility," Mesic said, stressing that a reaction was needed as soon as possible.
The president also voiced his concern that in 2009 Croatia will not realise its strategic objective of entering the European Union.
"It is likely that Croatia will enter NATO, but we will not be able to realise our ultimate, the most important step – joining the EU," Mesic said.
He stressed Croatia must continue implementing reforms and not look for those responsible somewhere else. "We must carry out reforms," Mesic said, adding that had Croatia implemented the reforms, problems with Slovenia would be resolved easily.
"We were late and Slovenia took advantage of that," said Mesic.