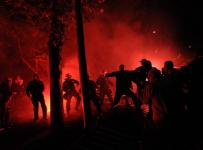 A Montenegro government document on the country's efforts on its path to join NATO shows Montenegro is about to establish diplomatic relations with Kosovo, Podgorica-based daily Vijesti reported on Wednesday.
Montenegro recognised Serbia's former southern province as an independent country last October, leading to a chill in relations with Belgrade, its erstwhile closest ally. The report prepared at the beginning of 2009 said there were ongoing talks on opening a new road and two border crossings between two countries.
Montengro's President Filip Vujanovic said the Montenegrin minority in Kosovo should first be recognised and conditions fulfilled for the return of non-Albanians from Montenegro to Kosovo. However, the daily reported, such conditions for diplomatic ties have are not mentioned in the government document.
Montenegro also plans to intensify cooperation between its police and the new Kosovo Security Forces, especially in preventing crime in the border area and fighting drug traffic.