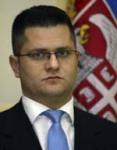 Serbian Foreign Minister Vuk Jeremic will meet UN Secretary General Ban Ki-moon on Tuesday, exactly a year after Kosovo seceded from Serbia, to speak about Kosovo and to inform him of Belgrade's expectation that the six-point plan will be implemented in full as approved by the Security Council..
Serbian Foreign Minister Vuk Jeremic said the United Nations were the major subject for Serbia to negotiate with, since the so called six-point plan was proposed by the UN secretary general and approved by the Security Council.
The plan regulates the status of Serbs in parts of Kosovo where they form the majority, and covers issues such as police, judiciary, customs, transportation, infrastructure and protection of the Serbian cultural heritage. 
"Serbia has responded to the one-sided declaration of Kosovo independence with extreme responsibility and restrain," Belgrade media quoted Jeremic as saying on Tuesday.
He said he believes the International Court of Justice will conclude that the declaration was not in accordance with international law, which would encourage the "key actors" to search for a solution acceptable for all.
"Serbia is against any segregation or partition of Kosovo," he added. On his return from New York, Jeremic will meet the head of the UN Mission in Kosovo, Lamberto Zannier.