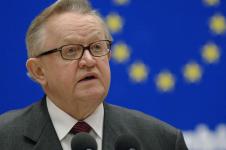 Nobel Peace Prize winner Martti Ahtisaari would be ready to chair a working group aiming to settle an 18-year border dispute between Croatia and Slovenia, enlargement commissioner Olli Rehn confirmed.
"Ahtisaari would be in principle ready to chair this group, but for the group to set up we need agreement of two countries on the terms and conditions on such a facilitation", Rehn said in Brussels.
He confirmed he met the former Finnish president on Thursday in Brussels to discuss the framework of the group, which would help both Slovenia and Croatia to move forward in overcoming the border dispute which is threatening to delay or derail Croatia's accession negotiations.
The creation of a working group was initially Rehn's idea, after Slovenia blocked the opening of the remaining chapters of accession negotiations with Croatia in December. Slovenia argues that the border dispute has to be solved before Croatia can clinch EU membership. Croatia is the most advanced Western Balkans country in the process of negotiations, and aims conclude the accession talks during 2009. Rehn called on both Zagreb and Ljubljana to "seize the opportunity" and accept the facilitation of European working group.
Rehn said the European Commission still feels that the 2009 target date is feasible, and Croatia had been working effectively to maintain this target timeline.
"It is important that we could find a solution that could help solve the border issue and would allow Croatia EU accession negotiation to continue according to negotiating framework", Rehn said.