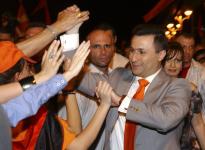 After reaching record approval numbers late last year, Macedonia Prime Minister Nikola Gruevski is seeing his popularity fall drastically in the last one and a half month, shows a survey by the International Republican Institute.
The survey shows he went from a 61 percent approval rating in December to 51 percent in February. The popularity of his conservative VMRO DPMNE party fell to 30 percent from 38 percent.
Local analysts say the sharp decline in popularity is mainly due to disappointment over accumulated social and economic problems that can no longer be deflected by media campaigns and patriotic rhetoric regarding the ongoing name row with Greece.
"People are becoming clear-headed, Gruevski's popularity will never again reach such highs," political analyst and university professor Mersel Biljali told local Utrinski Vesnik daily.
He said constant government campaigning in the media is now having a boomerang effect on Gruevski, who is paying the price for raising, then not fulfilling the people's expectations.
"You cannot feed people with an empty spoon", university professor Biljana Vankovskia told the same paper. She noted that the government failed to solve the problems of the dairy farmers, the education and defense employees, and mismanaged several reforms that sparked additional discontent among people.
The survey of 1,200 people shows that despite disillusionment with Gruevski and his government, the country's main opposition party has not benefited, with the popularity of the Social Democrats still at 10 percent. The two parties square off again next month in local and presidential elections.