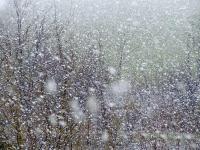 Heavy snow storms and icy winds across the Balkans over the last two days caused traffic jams and left thousands in mountainous areas cut off, but also delighted coastal cities that have not seen such snow in many years.
At least five municipalities in northern Albania are cut off due to a snow blizzard that deposited up to three meters of snow. One family was saved by rescue units after their car got covered in snow. More than thirty villages are reportedly out of reach in Serbia as well, while the number of traffic accidents on icy roads is on the rise.
Kosovo authorities reported most of the territory has been covered in snow, causing long traffic jams, while Macedonia's western and south are also under heavy show that blocked several local roads cutting out mountain villages.
A blanket of snow also fell on Croatia's coastal cities of Split, Dubrovnik and the Adriatic islands coast on Wednesday, shutting down roads and airports but delighting locals — especially school children were the happiest as schools closed for the day, allowing for many impromptu snow ball fights to break out on the streets.
Dubrovnik, known as the pearl of the Adriatic for its sparkling blue waters and rich artistic heritage, is a year round tourist magnet, normally enjoying mild and sunny winters due to its temperate Mediterranean climate. On Wednesday however, its palm trees, sailboats and medieval marble walkways lay under six inches of snow, while temperatures dipped below zero degrees Celsius and a strong northerly wind made the normally pleasant walk along the main Stradun promenade into an adventure.