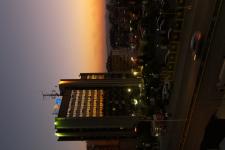 Kosovo is still using Serbia's +381 international dialling code for its land lines, despite having no formal agreement or any talks on the issue since Kosovo declared independence from Serbia last year.
The head of the parliamentary economic commission, Energy and Transport Minister Myzejene Selmani, said Kosovo should cut this tie with Serbia as soon as possible.
"We have the possibility to arrange an agreement with Albania, why should we keep using Serbia's prefix? " said Selmanaj. 
Governmental officials have said they are lobbying to get Kosovo's own international calling code as soon as possible, but are running into obstacles from nations that back Serbia in rejecting Kosovo's secession.
Senior officials of the Kosovo Post and Telekom board said Kosovo has no financial obligation toward Serbia despite using its prefix for free since the end of the 1998-99 war.
"We have no agreement with Serbia on this issue but we have been using the prefix as we did before the war", said the head of PTK's board, Rexhe Gjonbalaj. "Neither we, nor them pay each other for the code. There are no financial obligations toward one another."