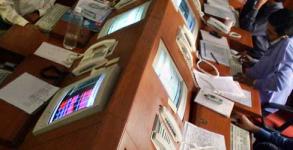 A Serbian government package of economic measures to help local companies make it through the global financial crisis will not solve all the economy's problems for good, but take the edge off the most acute issues, experts say.
More than half of the 1.2 billion euro package, which comes into force on Monday, foresees cheap bank business loans, with interest rates ranging between 5.5 and 6.5 percent, going to finance exporters or help them refinance existing debts. It also targets infrastructure projects and hopes to boost consumption of locally-made goods to protect domestic producers and safeguard jobs.
"The state is aware of the fact that this is an emergency situation and that it has to intervene to a certain level, to avoid jeopardising our efforts to achieve a market economy and our goal of European integrations," said Jurij Bajec, Economics professor and advisor to Serbia's prime minister.
He told Tanjug news agency that Serbia is not able to pump too much money into its economy, as developed countries are doing, since "we spend 20 percent more than we produce."
Serbian businessmen say they expected more from the government's programme. With the bank accounts of more than 58,000 firms frozen because of debts amounting to a total of 218.4 billion dinars (2.3 billion euro), not many companies will be entitled to take up the government's offer of low-interest loans.
Some have complained that the government should have drafted a full package of measures.
"It might be a certain help to some companies, but the procedure for getting the loan lasts several months and businessmen have no time to wait," Radoslav Veselinovic, owner of the Galeb Group, told Danas daily.. "A great number of non-liquid firms will not be able to get it, so government measures turn out to be just good intentions, with no actual effect."
The president of Serbia's textile producers union, Milan Knezevic, said the loans had been offered to an economy that was already in deep debt, burdened with many taxes and working in a market ruled by monopolies, big retail chains and the gray economy.
Bajec said the government's programme had not been completed and it would be revised constantly together with businessmen and bankers on monthly meetings. Serbia has also requested additional funds from the international financial institutions and the European Union.