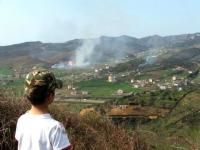 Fourteen high officials of the Ministry of Defence were charged on Wednesday with abuse of power and falsifying documents over the deadly blast at army depot outside Tirana last March.
Ex-Defense Minister Fatmir Mediu and several former high officials from the ministry were charged last week with abuse of power, bringing the total number of people indicted in the case to 24.
Apart from Mediu, the indicted include former Chief-Staff Luan Hoxha, General Shpetim Spahiu, and General Zija Bahja.
All have denied any wrongdoing. If convicted they face up to seven years in prison. 
The blast at an army depot in the village of Gerdec, only ten kilometers outside Tirana, killed 26 people, injured more than 300 and over 3000 left homeless. According to the emergency services, 400 houses were totally destroyed, 188 have been severely damaged, 200 sustained major damage and 1600 others were slightly damaged.
Albanian Prosecutor General Ina Rama has already filed murder charges against Mihal Delijorgji, the owner of the Alba-Demil company that managed the demolition work at the blast site, its administrator Dritan Minxholi, and Ylli Pinari, the former head of Albania's arms export agency MEICO that was in charge of supervising the demolition work at the site.
The three face from 20 years to life in prison if found guilty.
Estimates published by the Albanian government say the explosion caused more than €15 million in damage to the surrounding area. The explosions began when workers were moving stocks of old Chinese and Soviet shells stored at the base, a central collection point for the arsenal amassed by the communist-era dictatorship of Enver Hoxha.
Albania has been trying for years to dismantle the obsolete arsenal, which was one of the conditions for the country's successful entry into NATO.