KABUL (AFP) – US House Speaker Nancy Pelosi assured President Hamid Karzai Saturday that Washington would accelerate Afghanistan's reconstruction as part of a new "war on terror" strategy, his office said.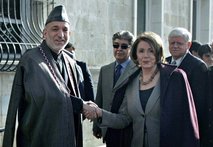 Pelosi visited the country at the head of an eight-member Congressional delegation as the United States was reviewing its strategy here, with extremist violence mounting more than seven years after the Taliban were ousted.
"Pelosi assured her country's commitments to Afghanistan's reconstruction and said: 'The new strategy would be also focusing on accelerating Afghanistan's reconstruction'," Karzai's office said in a statement.
She also said the reassessment would make the fight on "terrorism" more effective, the statement added.
US President Barack Obama has already announced a troop surge to Afghanistan to confront the rising insurgency, with 17,000 more US soldiers approved to add to 38,000 already here alongside several thousand soldiers from other nations.
An Afghan delegation chaired by Foreign Minister Rangeen Dadfar Spanta is due to head to Washington Sunday to give their input for the reassessment of US strategy here and across the region.