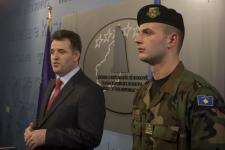 Dozens of former Kosovo Protection Corps members who did not get accepted into the newly formed Kosovo Security Force, KSF, attempted to break into KSF's headquarters on Monday, but were stopped by police
The NATO-sponsored KSF, an army in all but name, replaced the Kosovo Protection Corps, KPC, the territory's first quasi-military body that was set up after the end of the 1998-99 war between ethnic Albanian guerrillas and Serb forces, and was overwhelmingly made up of former ethnic Albanian veterans.
In an effort to make the new force a little less closely associated with the war, the selection process left out hundreds of former KPC members, with many taking to the streets in protest, while three high-ranking officers resigned in solidarity.
Scuffles broke out outside the Security Force Ministry building as special police stopped some 200ex-KPC who were shouting against the fairness of the selection process.
The Security Force Minister, Fehmi Mujota, after his meeting with former KPC members said the protests would end.
"I guarantee there will not be protests any longer. We don't work under the dictate of protests and disagreements", said Mujota, adding that all those dissatisfied with the selection process have another opportunity to apply for entry into the KSF in March.
Agim Derguti, one of the protesters, said the selection process was not just and the authorities were lying.
"Since January 20 we have been protesting peacefully and each time we have been told lies. This cannot go on like this any longer".