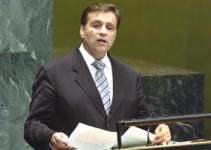 Macedonia on Thursday marked the fifth anniversary of the death of President Boris Trajkovski in a plane crash in Bosnia and Herzegovina, a case that is still open and under investigation.
The lack of an official conclusion on the causes of the crash has over the years led many in the country to believe in possible cover up of responsibility of the control tower personnel, while some more prone towards conspiracy theories speak even of an assassination.
"The fact that the Ministry is not abandoning this case, and even after all these years the accident it is treated as top priority, proves that the Ministry is fully committed to revealing the truth", said Interior Minister Gordana Jankuloska.
Trajkovski was elected president in 1999 and together with US and European envoys played a key role in forging of the 2001 Ohrid peace accord that ended the six months long ethnic Albanian insurgency
granting the 25-percent Albanian minority in the country greater rights.
President Boris Trajkovski was en route to an international conference in Bosnia in a governmental King Air 200, when the plane crashed near Mostar amid thick fog and heavy rain. Eight other people died in the crash.
The probe led by Macedonian and Bosnian authorities showed that the accident was caused by crew's inattention in following the procedure for landing in poor weather conditions. Last year the Interior Ministry asked that the investigation be re-opened but the prosecution office turned down the request citing lack of evidence.
Swiss MEP Andreas Gross, a personal friend of the Trajkovski's also urged that the probe be re-opened. Onn his request, a parliament commission made up of members of the biggest parliamentary parties was set up in October 2008 to determine the circumstances in which Trajkovski died.