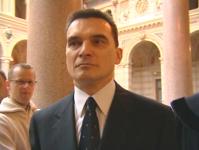 A Croatian court sentenced retired general Vladimir Zagorec to seven years in prison on Monday for abuse of office and for stealing $5 million worth of diamonds from a safe in the Ministry of Defense upon leaving his post as an assistant to the minister in 2000.
Although Zagorec is Croatia's most decorated general, he never spent a day at the front during the country's 1991-95 war of independence. He was in charge of arming the Croatian forces through the 1990s, during which time the diamonds were given to the Ministry by a German arms dealer as collateral for the procurement of a missile system. 
In addition to his prison sentence, he was ordered to pay back the $5 million, the estimated value of the jewels.
Presenting her three-hour closing argument at the Zagreb County Court last week, prosecutor Gordana Haramina Hranilovic said that the witness statements and documents presented during the trial showed beyond doubt that Zagorec had abused his position and stolen the jewels he had been given for safekeeping in 1993 by a German arms dealer.
The prosecutor dismissed claims by Zagorec's defense that the general was victim of a conspiracy organized by state institutions, witnesses and criminal circles.