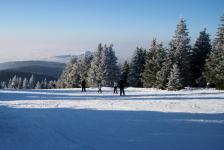 Belarus' president Aleksandar Lukasenko came with his family and staff to Serbia's famous Kopaonik ski resort for his winter vacation.
Local media reported that his presidential airplane landed at Nis airport on Sunday, and his party were escorted to Kopaonik mountain in central Serbia.
Serbian media speculated that Lukashenko came to Serbia at the invitation of Serb tycoon Miodrag Kostic who has huge business interests in Belarus.
Many Serbian ministers will be in Kopaonik these days to attend an annual economic forum but there was no information on whether someone from the Serbian administration will have a ormal meeting with Lukashenko, who has been criticised by the European Union and United States for his authoritaria style of governance.