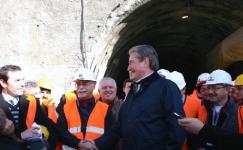 The International Monetary Fund, IMF, warned Albania on Saturday it should be prudent in its spending ahead of its general election on June 28 or risk possible threats to its macroeconomic stability.
In its final report on Albania-IMF relations, the Fund warned that "without its program support—which has served as a policy anchor since the early 1990s—added prudence of policy makers is called for when, at the same time, upcoming elections may tilt political instincts in the opposite direction".
Albania ended its final supervisory agreement with IMF on Jan. 31, despite warnings from experts advising that it be extended to avoid the risks of a populist spending spree in an election year.
The centre-right government of Prime Minister Sali Berisha has already declared it intends to increase salaries and pensions as of May 1, two months before the elections.
"The end of the program falls in challenging times. The external environment is deteriorating sharply and previously high inflows into the banking system have slumped," the IMF said.
"Remaining structural problems in the utility sector, and elevated public debt aggravate vulnerabilities, meanwhile, the upcoming elections risk diverting policy makers' attention from stability-oriented policies", the fund added..
In the report, a stiff warning is launched over the Albania-Kosovo highway, a road project costing more than a billion euros that aims to open a trade route between landlocked Kosovo and Albania's Adriatic coast.
This project cost Albania some 2.9 percent of its total General Domestic Product in 2008 and is expected to swallow 3.2 percent of GDP in 2009, leaving little or no room for other investments.
The IMF is concerned because the highway project is "import-intensive" and has already fuelled the already large account deficit gap. Almost 80 percent of the road related expenses are paid outside Albania.
The current account deficit of Albania reached 13 per cent of the GDP, the largest ever registered for the country in February, while the Albanian currency lek lost 5 per cent of its value in the last month due to increasing external imbalances.