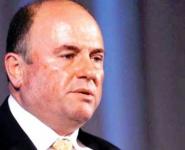 A prosecutor has sought a one year prison term and a 5 million lek (€38000) fine from an ethnic Greek mayor in Albania who was indicted after he ordered the dismantling of road signs because they were not bilingual, causing subsequent traffic chaos.
Mayor Vasil Bollano from the town of Himara on Albania's coast, ordered the removal of the signs in December 2007 arguing that the signs should have also been in Greek, because he considers the area a Greek minority zone.
The removal of the signs caused road chaos because they were along a section of Albania's coast which is very popular with tourists. Prosecutors have filed charges against Bollano for abuse of power, arguing that his actions were against the law and that the traffic chaos cost Albanian taxpayers roughly €170,000.
Bollano's statements have got him in hot water before. He has previously declared large swathes of southern Albania are Greek land and claimed autonomy for the area.
Estimates of the Greek minority in Albania range from three to seven per cent of the total population.
Tirana has also turned down his demands for special status, arguing that the size of the local Greek community is too small for the area to warrant such a status. At the same time, Tirana treads carefully with the mayor, mindful of its powerful neighbour to the south.
However, the government's softly-softly approach has angered some Albanians who feel Tirana has been too lenient on Bollano. They have been infuriated by his warnings that if the authorities make any moves against him, Albania's EU aspirations will be compromised.
That Greece is host to Albania's largest emigrant community in Europe, and that their remittances are a lifeline for its weak economy, especially in the south, is another factor in the equation. Although Athens broadly supports Albania's goal of eventual EU and NATO membership, it has shown it is ready to use the fate of the almost countless Albanian immigrants in Greece as a pawn when the going gets tough.