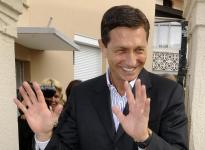 Slovenia's main political parties have accepted an offer of EU mediation in its border dispute with Croatia that has stymied progress in Zagreb's accession talks with the 27-member bloc.
EU Enlargement Commissioner Olli Rehn has asked Nobel peace laureate Martti Ahtisaari to help Slovenia and Croatia resolve the dispute, local media report. "We accept in principle the commission's mediation proposal and we hope Croatia's government will also back the proposal," said Borut Pahor, Slovenia's Prime Minister.
Croatia's government welcomed the initiative and said on Monday that it would respond to Rehn's proposal, but suggested the dispute should be resolved in an international court.
"What we now need to do is, together with the European Commission, is to look into the mandate of the (mediators), because we are accepting it, with the aim to go before the international court to resolve this long-standing border row," Croatia's prime minister Ivo Sanader said, as quoted by Reuters.
Rehn will meet with the Croatian and Slovenian foreign ministers in Brussels on March 10.
Slovenia, which joined the EU in 2004, has blocked Croatia's EU accession talks over the row since December. The dispute goes back to 1991, when the two republics declared their independence from Yugoslavia. Should Zagreb meet Ljubljana's demands, it would have to cede some of its off-shore waters, giving Slovenia direct access to international waters.
Slovenia has so far said that it does not see any reason for the case to be heard in an international court.