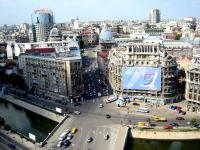 Romania's annual inflation rate rose slightly to 6.9 per cent in February from 6.7 per cent in January, primarily due to the weakening of the national currency, the leu.
The National Statistics Institute, INS, also said on Wednesday that the rise in inflation in February was due to an increase in nonfood prices, which rose 1.31 per cent when compared to the previous month. 
Food prices registered a monthly increase of 0.32 per cent, while service prices rose 1.03 per cent in February. The weakening of the Leu has increased the cost of services, frequently priced in euro. The local currency has recorded record lows against the euro, which rose 1 per cent last month.
Romania's central bank bank is keeping its forecast for 2009 inflation at 4.5 per cent,
Curbing inflation is a key requirement for Romania if it is to switch its currency to the euro, a goal the government has set for 2014.