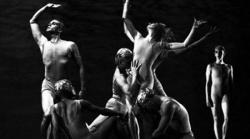 A number of concerts are scheduled form May 29 to June 4 as part of the official celebration of the Year of Bulgarian Culture in Armenia.
Both countries' Ministries of Culture implement a cultural program with the participation of Bulgarian national and classical dancing ensembles, panarmenian.net reported.
"After a long break, Bulgaria is again launching a comprehensive cultural program in Armenia," Armenian and Bulgarian Culture Ministies officials said during a press conference in the House of Architectures in Yerevan .
In a speech, Armenia's Deputy Culture Minister, Gagik Gyurdjyan, stressed on the importance of "restoring and assisting in cultural ties development between two states".
"The series of concerts and exhibitions organized in Armenia will lay firm foundations for that," he said.
"This is my first visit to Armenia, but I feel as though I had always known this wonderful country. And I'm very happy that we had the opportunity to introduce Bulgarian culture not only in Armenian capital but also in other parts of your country," said Bulgarian Deputy Culture Minister Ivan Tokadzhev.
"Arabesk" ballet group, Sofia Soloists Chamber Orchestra, Bistritsa Grandmothers national ensemble, and "Kirov's Found" theater's dancing ensemble perform in Dilijan and Vanadzor on May 31.
Concerts in Gyumri and Armavir are scheduled for June 1. A day later Bulgarian dancing groups will perform a concert in Yerevan.