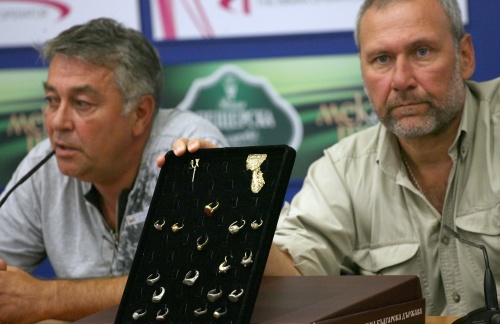 BULGARIA
Bulgaria's top archaeologist, Professor Nikolay Ovcharov, presented Wednesday the artifacts and jewelry that he discovered recently in Veliko Tarnovo, the capital of the Second Bulgarian Empire (1185-1396 AD).
Ovcharov has discovered the remains of the medieval St. Peter and St. Paul Monastery and the St. Ivan of Rila Church, which both provide information about the life of the medieval Bulgarian capital that had never been available before.
Ovcharov has found 20 silver rings, and a massive 23-gram male ring of 21-carat gold that he showed at a special press conference in Sofia.
Another silver ring dated back to the 13th century has an image of lilies, the symbol of the French royal court, and according to Ovcharov was made in Aquitaine, France, and probably brought to Bulgaria through the Crusades.
Professor Ovcharov has also discovered the grave of a 17-18 year old girl that he believes was a Bulgarian princess. His team is yet to study her origin.
Ovcharov and the archaeologists believe that the St. Peter and St. Paul Monastery was the largest monastery complex in Bulgaria in that period (12-14 century). They believe that the St. Ivan of Rila Church two stories high, and was a site where the relics of St. Ivan of Rila (870-940 AD).
Ovcharov and his team are continuing their excavations at Veliko Tarnovo.