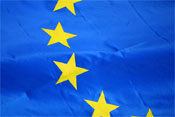 Slovenian Prime Minister Borut Pahor and his Croatian counterpart Jadranka Kosor said Wednesday they were ready to clear the way for Zagreb's EU membership talks next month.
"My wish is that, by the next EU-Croatia accession conference in February, we can solve at least two of the three open issues," Pahor said in a joint statement issued after a meeting with Kosor at the ski resort of Kranjska Gora.
"I believe important steps will be made by the conference on February 19. We will work hard for that and I'm convinced we will achieve results," Kosor declared.