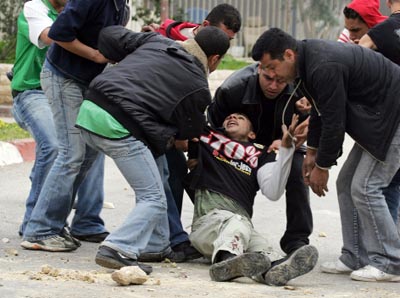 OCCUPIED JERUSALEM (Reuters) — Russia's plans to talk to Palestinian election winner Hamas drew a low-key response on Sunday from Israeli interim Prime Minister Ehud Olmert, according to remarks attributed to him by a government official.
"I think the Russian position is mistaken, as I have stated.
But from what they said to us during the weekend, they will demand Hamas recognise Israel and give up terror," the official quoted Olmert as telling his Cabinet at its weekly meeting.
Russian President Vladimir Putin said on Thursday he would invite leaders of Hamas, an Islamic group dedicated to Israel's destruction, to Moscow to talks following its victory in the January 25 Palestinian parliamentary elections.
Putin's announcement, seen by political commentators as a bid to reclaim the influential role Moscow once had in Middle East affairs, challenged US-led resistance to dealing with Hamas until it recognises Israel and renounces violence.
Hamas has rejected those conditions, also raised by Israel, saying it had a legitimate right to "resist occupation." It said its leaders, who agreed to a truce with Israel a year ago, would accept Putin's invitation once it was tendered formally.
Russia, along with the United States, European Union and United Nations is part of a "Quartet" of Middle East peace mediators.
Olmert's comments, following tough criticism by some of ministers over the weekend of Moscow's initiative, appeared aimed at avoiding a rift with Putin, who became last April the first Kremlin leader to visit Israel.
Russian envoy
In the West Bank city of Ramallah, Russian Middle East envoy Alexander Kalugin discussed Hamas with Palestinian President Mahmoud Abbas and reaffirmed that Moscow aimed to persuade the group to pursue peace.
"We will ask Hamas to change their position according to the latest decisions of the Quartet, which are recognition of Israel, rejection of terrorism and execution of the Palestinian Authority's past agreements [with Israel]," Kalugin said, echoing remarks he made to the Interfax news agency on Friday.
In fresh criticism of Russia, Israeli Foreign Minister Tzipi Livni cautioned in an Israel Radio interview against what she called a "slippery slope" that could lead other nations to compromise with Hamas.
Meir Sheetrit, a Cabinet minister and Olmert ally, said on Friday Israel should consider recalling its ambassador to Russia, and accused Putin of "stabbing Israel in the back."
Hamas has carried out nearly 60 suicide bombings in Israel since the start of a Palestinian uprising in 2000. It is expected to form the next Palestinian government after its crushing election win over the long-dominant Fateh faction.
Olmert has threatened to cut off the monthly transfer to the Palestinian Authority of tax revenues Israel collects on its behalf if Hamas comes to power and to take unilateral moves to set the Jewish state's borders if peacemaking remained frozen.
He took over from Ariel Sharon after the 77-year-old leader suffered a massive stroke on January 4. Doctors said the comatose Sharon was in critical but stable condition after an operation on Saturday to removed a section of damaged intestines.
In the occupied West Bank, Jewish settlers daubed graffiti insulting the Prophet Mohammad on the wall of a village mosque, an Israeli military source and local residents said.
Palestinians later threw stones at Israeli cars driving to nearby Jewish settlements, lightly hurting one woman and sparking clashes with Israeli soldiers.
Three Palestinians were wounded by Israeli army gunfire, said a Reuters reporter at the scene.
Protests swept through the Palestinian territories during the past week over the publication in European newspapers of cartoons depicting the prophet. Many Muslims consider any images of the Prophet Mohammad blasphemous.