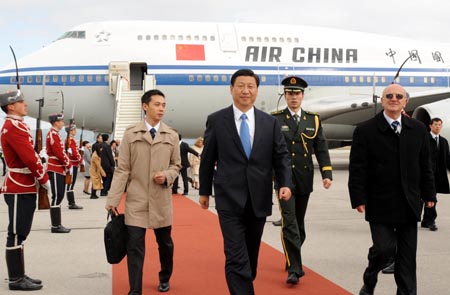 Chinese Vice President Xi Jinping arrived in Sofia on Wednesday on the latest leg of his Europe tour.
In a written statement issued upon arrival at the airport, Xi said this year marks the 60th anniversary of the establishment of diplomatic ties between China and Bulgaria, which had maintained healthy development.
The two countries had improved mutual trust and expanded cooperation in many fields in recent years, he said.
"The Chinese government values friendly cooperation with Bulgaria and will make joint efforts with the Bulgarian side to continue to promote political mutual trust, economic cooperation and personnel exchanges to achieve common development," Xi said.
He added that he would exchange views with Bulgarian leaders on bilateral ties and other issues of common concern.
Bulgaria is the third leg of Xi's tour that has brought him to Belgium and Germany. He will also visit Hungary and Romania.