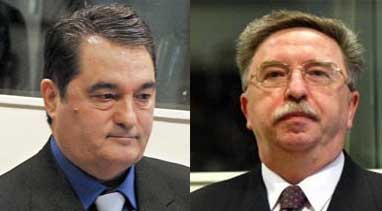 Former Yugoslav Army commander Nebojsa Pavkovic and deputy prime minsiter Nikola Sainovic said at their Hague Tribunal appeal that they are not guilty of murder and persecution of Kosovo Albanians during the 1999 conflict.
The two have been sentenced in 2009 to 22 years of jail each for deportation, murder and persecution on racial, political and religious basis of Kosovo Albanians in 1999.
The 2009 verdict said that Pavkovic "intended to forcibly displace part of the Kosovo Albanian population and shared this intent with other members of the joint criminal enterprise".
Pavkovic defence said in Tribunal on Tuesday that the sentence is "a huge injustice and a politically-motivated indictment" and that "the Albanians left Kosovo but there is no proof that they were forced to that".
The defence stressed that Albanians leaved Kosovo because they were afraid of NATO's bombing, Serb paramilitaries and the war in general, but the Yugoslav army didn't have any role in forcing them to leave.
The 2009 verdict also says that Sanovic "had the intent to forcibly displace part of the Kosovo Albanian population and thereby change Kosovo's ethnic balance to ensure continued control by the Federal Republic of Yugoslavia".
The defence also requested acquittal for Sainovic, claiming the 2009 verdict was "legally ungrounded and unclear".
The appeal will continue on Wednesday.